For any organization, whether non-profit, for profit or governmental, there are some announcements that you never want to have to make – especially in public. When your mission is all about helping others, it can sometimes be hard to ask for help yourself. But after 15 successful years, which have taken us from infosec volunteers to becoming the Internet's premier provider of free daily cyber security information, The Shadowserver Foundation today finds itself in an unexpected and difficult situation.
We have always tried to be open and transparent about the way we operate, which is why so many people worldwide have come to trust us and depend on our free, public benefit services. Given the circumstances and timescales involved, we are going to continue to be honest about our situation here too. In doing so, we sincerely hope that like-minded members of our global community and the constituents who have, over the years, gained the most from our public benefit services will be able to successfully come together and help us overcome a potentially existential challenge.
The Shadowserver Foundation urgently needs your financial support, to help quickly move our data center to a new location and continue being able to operate our public benefit services.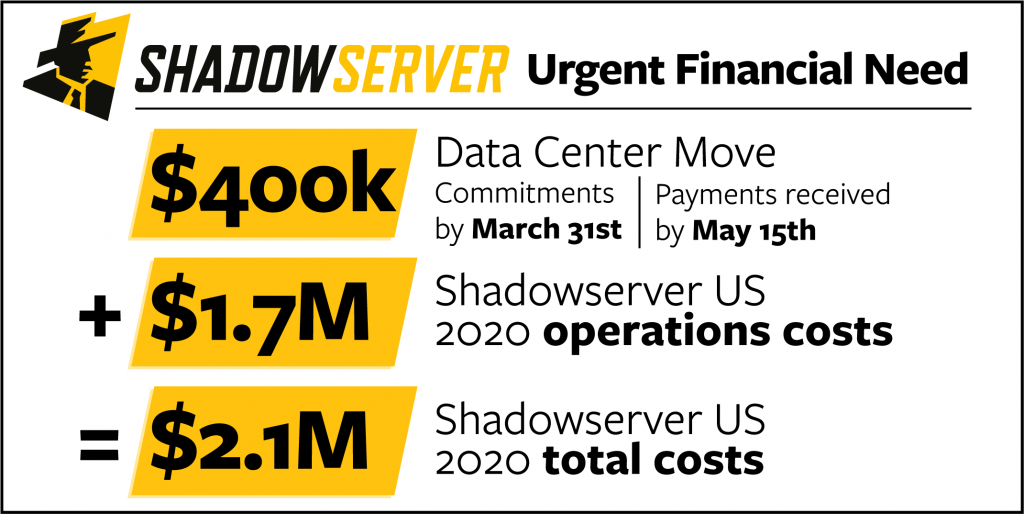 To ensure that everyone is clear about our situation and understands exactly what quickly needs to happen, and when, we will break the information down into multiple shorter blog posts:
Frequently asked questions
We know that this unexpected news and the externally enforced timeline for finding a solution will be a shock to everyone. At this time of global uncertainty and the worsening COVID-19 pandemic, the traditional security perimeters of many organizations are being unexpectedly and rapidly expanded – increasing the potential attack surfaces for cyber criminals to exploit. The enforced need for home working and access to accurate healthcare information means that we are all now, more than ever, dependent on a secure, reliable Internet.
We are confident that, with the help of our sponsors, constituents and the community, The Shadowserver Foundation can continue this important fight and serve you all even more effectively, for many years to come.  We need to ensure that victims of cybercrime continue to be protected, and the cybercriminals do not win. We look forward to working together with you all to find the right solution for everyone.
So in a challenging moment for Shadowserver, what can you do to help?
The Shadowserver Foundation Team
Read Next: Shadowserver 2020 Urgent Need – Just the Summary
Read Next: Shadowserver 2020 Urgent Need – The Full Story
Read Next: First Fundraising Status Update
Read Next: Data Center Migration Deadline Extended from March 26th to August 31st
Read Next: Data Center Requirements – Can You Help Host Shadowserver
Read Next: Our Data Center Has A New Home
Read Next: Second Fundraising Status Update
Read Next: Third Fundraising Status Update