Hot on the heels of our recent fundraising status update about progress towards our urgent 2020 funding needs, we would like to publicly acknowledge some more of the generous support that continues to be provided to help sustain Shadowserver's ongoing operations.
Generous Financial Support from ISOC

The not-for-profit organisation The Internet Society (ISOC) has very generously provided $400,000 to support our data center move and the continuing operation of Shadowserver's public benefit services. We thank you ISOC!
The Internet Society supports and promotes the development of the Internet as a global technical infrastructure, a resource to enrich people's lives, and a force for good in society. Their work aligns with our goals for the Internet to be open, globally-connected, secure, and trustworthy. They work in collaboration with all who share these goals. We at the Shadowserver Foundation applaud their work and support their mission.
"The Internet depends upon voluntary, collective action to make us all secure. Shadowserver's approach gives every network operator the tools to improve their own network security. It's the way to make sure the Internet is secure and trustworthy for everyone" said Andrew Sullivan, President & CEO of the Internet Society.
We continue to be impressed by the speed and level of support being made available by generous donors – particularly in these unprecedented times. We really appreciate fellow non-profit organization ISOC helping to ensure that Shadowserver can survive this transition and continue delivering our public benefit mission to the world.
Even if you or your organization can't currently help fund Shadowserver's urgent 2020 financial needs, please take a moment to thank ISOC on Twitter. Your voices, likes and retweets on social media can really help us to take our message out to wider audiences, who may be able to help in both the short and long term.
Continuing Progress, But Further Financial Support Still Needed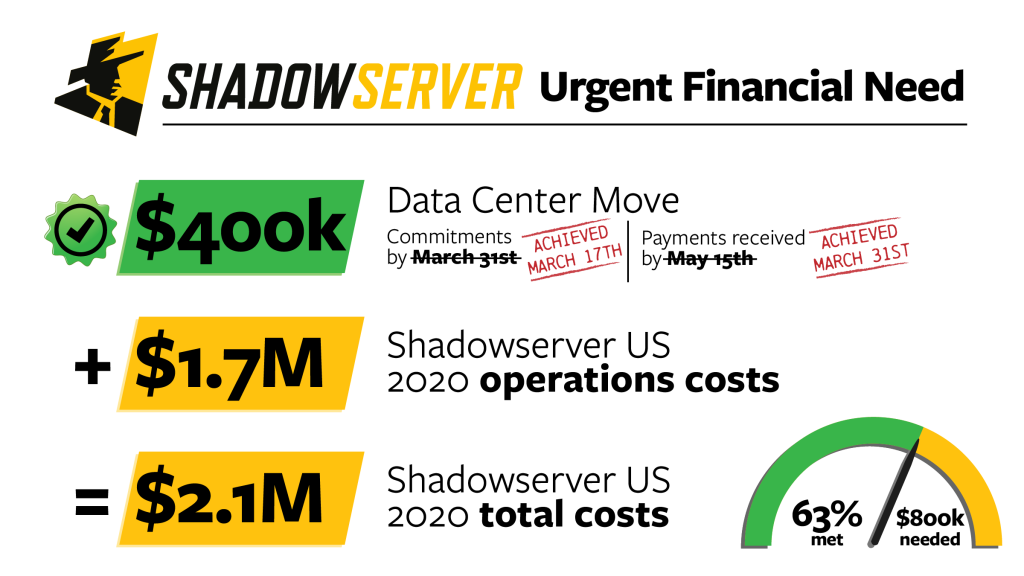 Thank you, everyone, for your fantastic support so far – we are continuing to make progress on our 2020 goal, despite difficult circumstances. Please keep up the great community effort and help us reach (or exceed) our remaining targets.
If you don't already receive them, sign up for our public benefit network reports. If you can help fund Shadowserver, or know someone who can, please reach out on social media and help get the message out, or get in touch by email, urgently.
The Shadowserver Foundation Team