On Monday March 16th we opened up about Shadowserver's urgent funding needs, making it clear just how close we are to losing our data center and revealing the risk of a complete shutdown of our public benefit services.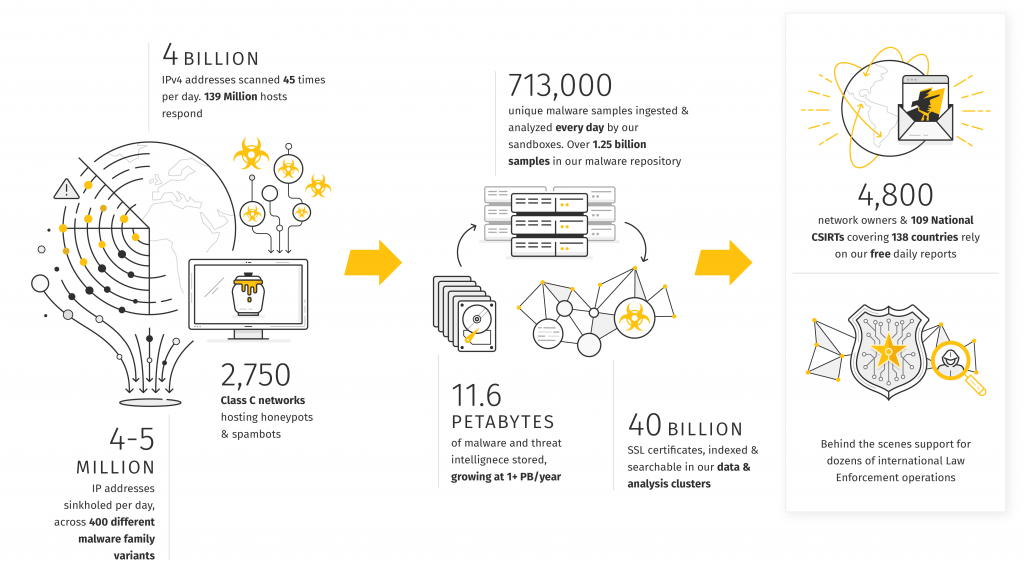 The past two weeks have been a whirlwind of activity for all of the team here, especially coming, as they do, on top of everything else that is happening in the world. Since March 31st was our first publicly declared (and very critical) milestone, we wanted to continue to be transparent and to share with you the progress we have made regarding our current situation.
Within the first 24 hours of making our initial announcement, we had some much-needed good news: with some fantastic help from our awesome community, we found that we had already received enough pledges of money to achieve our first critical milestone and to cover the costs of our data center move! The level and speed of the response was incredible.
Since then, we have been engaged in back-to-back calls with potential sponsors and supporters. Some of the initial offers of support that we received, although interesting and exciting, potentially came with conditions attached that might compromise our strongly held values and our public benefit mission. It has, therefore, taken us a couple of weeks to really get on top of what was credible and immediately possible, while still preserving Shadowserver's independence and integrity.
As of today, we have received around $550,000 in successfully completed donations and payments made against voluntary invoices (which has proved to be a very popular approach). We have additional, non-binding commitments to about another $450,000. So, in total, at this stage of our appeal, a potential $1M could be invoiced towards our $2.1M minimum 2020 data center operations requirements. We also have some speculative declarations of interest, potentially totalling another $500,000, which still need more work to confirm.
This is obviously fantastic progress despite the unprecedented global circumstances we find ourselves in, brought about by the COVID-19 pandemic.
Conversations about supporting our remaining 2020 operational costs are continuing, with organizations and individuals from all around the world stepping up to actively support Shadowserver.
We cannot say enough about how humbled we are by the outpouring of support in such a short period of time. Thank you all. We had strong confidence that the community we have been serving for 15 years would pull together and help us with this difficult situation. But the reaction has been beyond what we had hoped for.
Individuals From All Over The World Supporting Shadowserver
What is most amazing to us is one particular form that your support has taken. We had expected wire transfers and cheques from corporate and government donors – and those to potentially take weeks to start arriving. But, so far, over 300 people, from many different countries, have personally shown how important we are to them by reaching into their own pockets and directly donating their own money, to a total of around $20,000. These people are not just infosec professionals, but academics, government workers, representatives of small high street shops, hospitality workers and even retirees – people who have simply seen our story in the media and realized that Shadowserver is important to the world right now. This personal support is so unexpected and we need you all to keep it up! Please! Every donation is appreciated. You are personally helping to protect victims of cybercrime and to secure the Internet, at a time when we are all more dependent on it than ever.
Security As An Impact Investment For A Better Society
Internet security issues are front and center today. Shadowserver's public benefit security services, with their positive societal benefits, are the very definition of "Impact Investing". We have seen a great example of this kind of investment during our appeal with a contribution of $400,000 being made by a single source: craigslist founder, Craig Newmark. Craig Newmark Philanthropies has four key focus areas of their support, directly aligned with our core mission of making the Internet more secure for everyone. Craig has personally recognized the importance of Shadowserver's mission and our 15-year track record of effective action. Craig's generous support clears the path for Shadowserver's long term sustainability campaign. Individuals, corporations, governments, foundations and other groups are welcome to join Craig in supporting Shadowserver's proactive security mission. Craig's initiative has squashed, happily for us, any doubts that such a large-scale move could be achieved in such a very short timescale – we can do this together. Ultimately, we can build a constituent-driven organization that will serve the Internet for the next 15 years and more.
Thank you, Craig, from all of the team at The Shadowserver Foundation, and thank you on behalf of all those who use the Internet.
Shadowserver Still Not Out Of The Woods Just Yet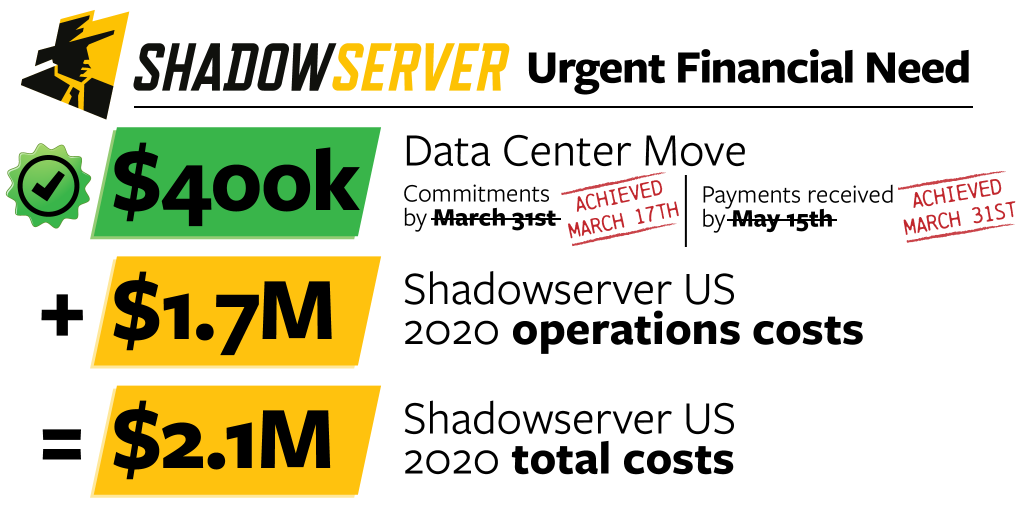 Despite the fantastic news that we have achieved our first critical milestone, we still have a long road ahead of us. Although we can now begin the process of moving our data center, we still need to raise the $1.7M required to keep our public benefit services running through 2020. This means that everyone at Shadowserver is keeping their foot firmly on the accelerator, and we need you to do the same. Please reach out and contact Shadowserver for a general briefing; for a consultation on the Shadowserver Alliance; to learn how Shadowserver is safeguarding the Internet; and to understand the ways in which your organization can leverage Shadowserver's public benefit mission to assist you with your own security.
What Can You Do To Help?
Step 1: Consider if you, or your organization, can also contribute towards funding the $1.7M required to cover our 2020 Data Center Operations. We can easily issue voluntary invoices at any level – either for the services you already receive from Shadowserver, or for general operational support. These invoices can be paid by wire transfer, cheque or PayPal. Alternatively, you can make tax-deductible, charitable donations to our US or EU non-profit organizations. Every amount received, however small, helps to support our ongoing mission.
Step 2: Read through Shadowserver's website. Understand the Services. Sign up for the Daily Network Reports. Read through our Blogs and Media Coverage. It is surprising just how many people who think that they "know" Shadowserver discover further services, projects, and functions that Shadowserver has been quietly contributing to the community over the past 15 years.
Step 3: Reach out to Shadowserver for a briefing. During this briefing, we would review all of Shadowserver's services, demonstrate how those services benefit everyone on the Internet, and explain how supporting those efforts would benefit your organization. We would review how organizations can join the Shadowserver Alliance, the levels of membership available, and what you would receive for joining at each of those funding levels. A special focus would be given to how organizations that help fund our $1.7M 2020 Data Center Operations are actively supporting security risk reduction throughout the entire Internet, particularly during these challenging times.
Step 4: Join our mailing list to receive updates, and follow us on Twitter and LinkedIn.
Stay Tuned for More Shadowserver News!
Over the coming days, we will be sharing more news about our supporters, who they are, and why they are investing in our Public Benefit Mission to Safeguard the Internet.
Also, there is some great Shadowserver coverage in the media and activity happening on social media, check it out:
If you can help, or know someone who can, please reach out on social media and help get the message out, or get in touch by email, urgently.
The Shadowserver Foundation Team
Read Next: Data Center Migration Deadline Extended from March 26th to August 31st
Read Next: Data Center Requirements – Can You Help Host Shadowserver
Read Next: Our Data Center Has A New Home
Read Next: Second Fundraising Status Update
Read Next: Third Fundraising Status Update