It has been almost six months since we first went public about The Shadowserver Foundation's urgent 2020 funding situation, and the world has changed in more ways than we all could have imagined. Since our last fundraising status updates, we have continued to work hard to raise the remaining money needed to keep our public benefit services running during 2020. With the COVID-19 pandemic having forced an unexpected mass shift to home working, we are all more dependent on the security of the Internet than ever before. After successfully completing our unexpected data center move during August, we are very pleased to announce that, with the help of our generous sponsors, we have now also successfully achieved our immediate 2020 operational funding target. Awesome work everyone!
Generous Financial Support from Avast for Shadowserver's Pro-Active Security Mission
Avast has very generously committed $500,000 USD to support Shadowserver's public benefit services in 2020. This is the largest single donation we have received this year, and it has happily helped us achieve our $2.1M urgent 2020 operational need. Thank you very much Avast for your great support, we really appreciate it!
Avast has been a partner in Shadowserver's anti-virus testing system and malware exchange program for many years, allowing us to use their Avast and AVG engines and reciprocally sharing many thousands of newly detected malware binaries every day. This aids Shadowserver's public benefit mission globally and helps Avast protect hundreds of millions of customers via their industry-leading products and services.
Shadowserver's malware exchange program enables vetted security vendors and researchers to automatically exchange large, reciprocal, volumes of new malware samples. This helps to improve anti-virus detection and better protects their customers and our global constituents from cybercrime.
Jaya Baloo, Chief Information Security Officer at Avast said:
"I am very proud that Avast is funding The Shadowserver Foundation with $500,000. Cybersecurity is essential in today's tech-first world, and we are committed to contributing to all causes that support the improvement of security measures. While sharing data and insights are important and fundamental to Shadowserver's efforts, we are also fully aware that non-profits depend on financial donations to operate.
We feel it is our obligation to help maintain organizations that share our mission, to keep the online world safe and secure, a goal we can only achieve if we work together"
Despite the unprecedented times, we continue to be heartened that companies such as Avast, who truly understand the benefits of industry collaboration on cybersecurity, continue to step up and help ensure that Shadowserver can survive and deliver its public benefit mission.
If you and your organization benefit from Shadowserver's services, or you just like this cyber security good news story – please take a moment to thank Avast on Twitter. Your voices, likes and retweets on social media can really help us to take our message out to wider audiences, who may be able to help better support Shadowserver in both the short and long term.
Urgent 2020 Financial Need Now Achieved, But Still Looking For Additional Sponsors To Help Support Shadowserver's Ongoing Operations in 2021+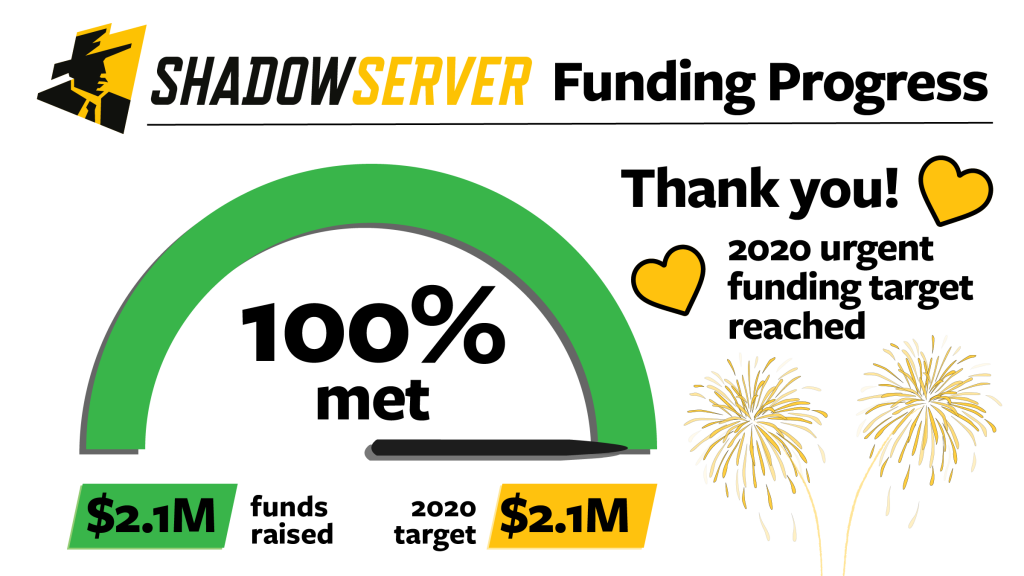 Thank you, everyone, for your fantastic support so far – we have made great progress and successfully achieved our $2.1M 2020 US operations funding goal, despite the difficult economic conditions globally. This means that Shadowserver should be able to continue operating on at least a bare bones minimum operational level for the rest of the year.
But despite this great news, the challenge does not stop today.
Shadowserver is going to continue to require help from the community to keep running in 2021 and beyond. We have already announced optional voluntary invoicing as a new way of potentially supporting our free public benefit services – if you haven't already considered that, please do.
If you have not already reached out, please consider if your organization might also be able to support our work. Even small amounts are useful and appreciated. We will shortly be highlighting the generosity of all of the organizations who have stepped up to help us in 2020, so please keep up the great community effort.
From now, our focus will be shifting to long term sustainability in 2021 and beyond. One major element of that will be our new Shadowserver Alliance concept, with more information about the structure, levels and benefits to follow in a future blog post.
Even if you or your organization can't currently help fund Shadowserver's continued operation, if you don't already receive them, please sign up for our public benefit network reports. If you can help, or know someone who could, please reach out on social media and help get the message out, or get in touch by email, urgently.
The Shadowserver Foundation Team